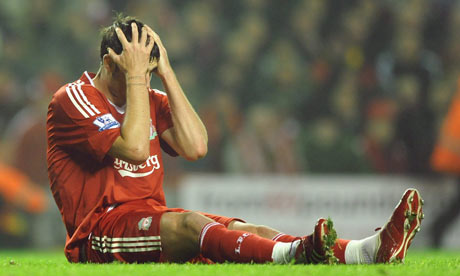 Whatever the 'expert pundits' may say, Liverpool have one of the best squads in the Premier League.

Let us not forget this is the team that finished four points behind the champions last season, Liverpool have virtually an identical squad to that campaign, minus Arbeloa and Alonso.You could even argue this current squad tops last years with the introductions of Glen Johnson and Alberto Aquilani.

This season Liverpool have had two major problems - Injuries and a major confidence crisis.

Liverpool's poor league record and Champions Lague exit can't be put down to an 'average' squad as some may have you believe. Liverpool's injury list has been undoubtedly the worst of any of the top clubs. Torres, Gerrard, Benayoun, Riera, Agger, Skrtel, Fabio Aurelio, Johnson and of course Aquilani, have all been inured for various parts of this season.

People may claim injuries are part of the game, and yes, that's true, but for one team to have so many first team players out at the same time is unheard of. We're not just talking fringe players here, Liverpool have been hit hard with the players who would grace their first eleven week in week out.

Of course when a number of first team players are missing and the team doesn't get the result on the pitch, confidence can be drained significantly. Take Liverpool's game at Sunderland this season, a number of first team players were missing (including Gerrard and Torres) and we end up being beaten by a goal that took a deflection off a beach ball.

Instantly confidence dips, the players know Liverpool Football Club are expected to beat an average Sunderland side, the pressure from the fans and media gets only intenser.

Young players especially can be affected by a dip in confidence. Emiliano Insua is a classic example, a promising young full-back who has shown immense potential at reserve level and during the second half of last season in the first team, suddenly looks completely out of his depth.

More experienced players, i.e. your Gerrard's et al. can cope with performing under pressure, a lack of confidence rarely effects them, the trouble is when you're missing so many of them (see the above list!) results can be hard to come by.

Of course to restore confidence you must win games, which despite the result in midweek (which was meaningless anyway), has slowly started to happen again. Last weekend's match at Ewood Park was a disappointment but none-the-less it was the third clean sheet in a row, something Liverpool desperately needed to help consolodate a basis of which to build upon.

Once Liverpool do have a relatively injury-free squad to choose from there is no doubt performances will improve and results on the pitch can only get better.