The summer transfer window is now closed and Roy Hodgson has to stick with what he has until January.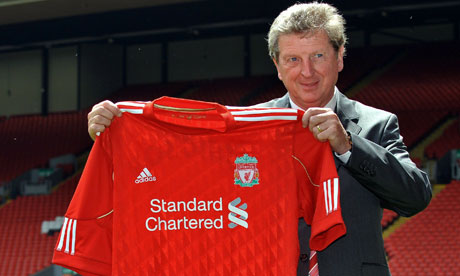 Roy's buys;
Joe Cole - free from Chelsea
Fabio Aurelio - free
Christian Poulsen - £4.5m from Juventus
Brad Jones - £2.3m from Middlesbrough
Raul Meireles - £10.7m from Porto
Paul Konchesky - £3.5m +Lauri Dalla Valle&Alex Kacaniklic from Fulham

Roy's sales;
Albert Riera - £3.5m to Olympiakos
Diego Cavalieri - £3m to Cesena
Kristian Nemeth - £1m to Olympiakos
Javier Mascherano - £17.25m to Barcelona
Damien Plessis -Undisc. to Panathiniakos
Nabil El Zhar - Loan to PAOK
Emiliano Insua - Loan to Galatasary

Deals made by Rafa;
Jonjo Shelvey - £1.7m from Charlton
Milan Jovanovic - free from Standard Liege
Danny Wilson - £2m from Rangers

Yossi Benayoun - £6m to Chelsea

Was the window a success for Liverpool? It's hard to say right now but two key factors stand out from the latest ins and outs.

Firstly, Liverpool have not managed to sign a striker - despite Hodgson making it a priority and despite ex-manager Rafa Benitez coming under fire for not investing in back-up for Fernando Torres. Ola Toivonen was mentioned but nothing materialised. Perhaps Hodgson has faith in David Ngog to fill the shoes of Torres, or even Dirk Kuyt, Ryan Babel or Milan Jovanovic.

Secondly, for the fourth window in succession, Liverpool have made a profit. So much for the 'big' investment in the playing squad.

Midfield battle



The biggest change in the squad has come in the centre of midfield. Liverpool have lost Javier Mascherano, a world class defensive midfield player and captain of Argentina. Although there was little Hodgson could do about it, Mascherano's departure signals that Anfield could be losing its appeal. Would Mascherano have left if everything behind the scenes was fine and Benitez was still in charge? Almost certainly not.

Alberto Aquilani has also left the club, returning back to Italy with Juventus on loan. This deal in particular is puzzling. Hodgson insists a year in Aquilani's homeland could help the injury plagued 25-year-old rediscover his best form. However, the purchases of Christian Poulsen and Raul Meireles suggest that even if Aquilani does return, there probably won't be room for him. It's a shame for Aquilani because during the final stages of last season the Italian was starting to show what he could do. In fact against Atletico Madrid he was arguably the best player on the pitch, getting his name on the scoresheet in the process.

On paper it would appear that Mascherano has been replaced by Poulsen and Aquilani by Meireles. The next few months should tell us whether they are adequate alternatives. From what we have seen so far however, Poulsen certainly doesn't look in the same class as Mascherano - nevertheless he must be given time.

Like for like



A number of signings seem to be replacements rather than additions. In truth, Liverpool's squad needs to be strengthend and not merely maintained. Joe Cole is a definite swap for Yossi Benayoun, as is Brad Jones for Diego Cavalieri, Paul Konchesky for Emiliano Insua and Christian Poulsen for Javier Mascherano.

The money available to Hodgson must certainly be a factor but apart from the acquisition of Joe Cole, which was on a free transfer, none of the other deals make you jump off your seat. Even Cole, now 28, can't be expected to produce his best form immediately after a stop-start season with Chelsea.

Finding Cole's best position may also be a challenge. So far, Hodgson has utilised the playmaker in the hole behind the main striker but it's hard to argue that Steven Gerrard isn't better suited to that particular role. One, because he already has a great understanding with Fernando Torres, and two, because he's been playing there week in week out for the past three seasons (earning the PFA player of the year in 08/09).

Although if Cole can fit into the Liverpool side we have an exciting player on our hands who can add a dimensions that were sorely missing last season - movement and creativity.

Selling on young blood



It may concern some Liverpool supporters to see a number of young players leave the club. Roy Hodgson has never been known to stick around long enough at any one club to develop fresh talent. Perhaps the Englishman's hunger for instant success at Anfield means he has had to sell some of Liverpool's most promising youngsters.

Kristian Nemeth, Nabil El Zhar (loan), Damien Plessis, Emiliano Insua (loan), Alex Kacanaklic and Lauri Dalla Valle have all exited. While El Zhar and Plessis have had their respective stints around the first team and not made a great impression, the sales of Nemeth and Dalla Valle could irk certain sectors of support. The duo were both seen as shining lights for the future but leave the club with one first team appearance between them.

How was Liverpool's summer business? Fairly average. But did we expect anything else from a board in turmoil? No, not really. In truth, Hodgson's hands are tied - money is coming from sales and the appeal of the club is not what it was. It's hardly a recipe for success, making Hodgson's first season in charge a tough proposition.